AEROLEDS SUNSPOT 36 LX LANDING / TAXI LIGHTS FAA-PMA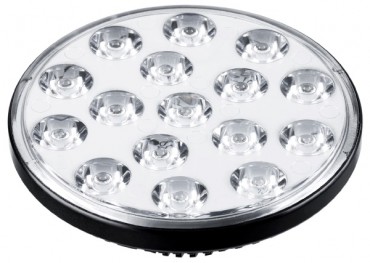 Overview
SunSpot LX is designed as a LED drop in replacement for the existing GE4509 PAR 36 aircraft lights. SunSpot LX is available in a landing or taxi light. SunSpot LX landing light projects 45,000 candela using 45 Watts/3 AMPs max of power. SunSpot LX taxi light projects 10,000 candela. Mounts with existing ring clamp.
Power consumption: 45 Watts Max; Current Draw at 12VDC: 3 Amps Max Available in taxi or landing lights. Clamp Mount: Par 36 Ring Clamp.
SunSpot has the same great design features as other aircraft light designs:
Wide Input Voltage Range
(9VDC-36VDS)
Over-temp Sense Protection; ensures our 50,000 hour lifetime guarantee
Low-voltage Sense (shuts down half the LED's in emergency, low voltage conditions)
They strongly recomend adding the Pro-tech lens coating which comes with a lifetime warranty on the lens for damage caused from rocks and debris. PMA'd.